Particle FM presents DJ Wawa
NTS and The Lot Radio resident DJ Wawa joins Particle FM for a special dance event.
---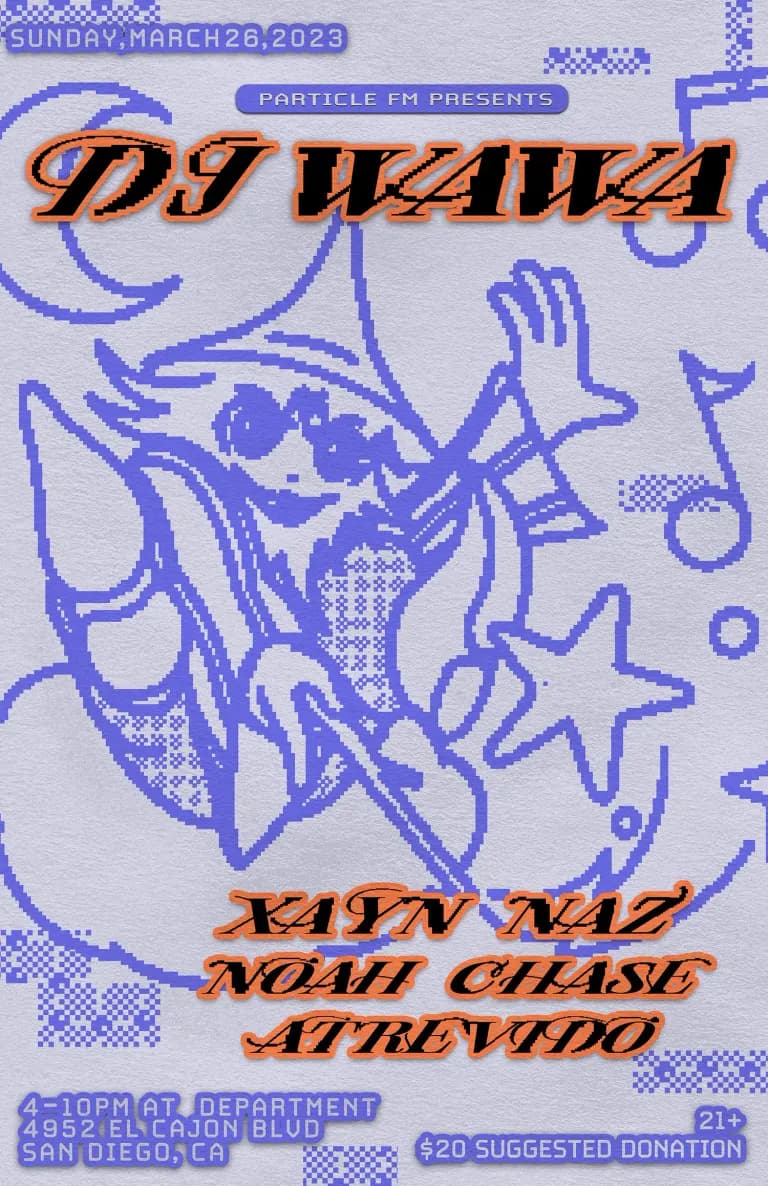 We are delighted to present DJ Wawa (they/them) for another Particle FM gathering. DJ Wawa has been sprinkling magic on New York City's vibrant underground techno scene for a few years now, watching it flourish from the center of the dancefloor. They're a regular fixture at the city's best parties, and a familiar voice on Twitter, uplifting the "loose international queer and QTPOC techno underground that puts love for music first". A kindred spirit, DJ Wawa also frequently broadcasts on radio stations like The Lot Radio and NTS. On opening duties are multi-disciplinary artist Xayn Naz (they/them), host of Cashmere on Particle FM and director of The Brown Building, a community center for and by black and brown trans people in San Diego. Xayn takes inspiration from Indian, African, and Asian dance music, with a taste for Kuduro and techno and everything in between. Noah Chase (he/him), host of HANDS ON on Particle FM, also joins the roster with a selection of balearica, house, and heady club atmospherics. Followed by Atrevido (he/him), host of Planet V on Particle FM, who frequently borrows from Detroit techno, UK bass, and leftfield club to warm up the dancefloor. Join us Sunday March 26th from 4-10pm at Department in City Heights for another gathering of radio music lovers. Refreshments are offered so this event is strictly 21+. We won't turn anyone away at the door due to lack of funds, but strongly encourage people to purchase a ticket so that we can support our DJs and event costs. Our events are LGBTQ+ friendly and we ask that people respect our space so that people can freely and safely express themselves on the dancefloor.
Tickets available here. Poster by Laurie Piña and Aaron Pretty.
---